Wadebridge Tourist Information
Wadebridge Guide and History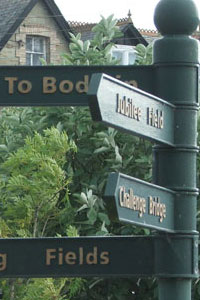 Wadebridge, situated on the River Camel and just six miles inland, was created by history and its beautiful river. It is the half way point between two very different parts of Cornwall. As the name may imply, historically, Wadebridge had a crossing which then became a bridge, said to be built on piles of wool. This ancient bridge was built in 1470 and paid for by the sheep farmers at the time. It carried travelers 320ft across the River Camel straight into the heart of the town and replaced a dangerous ford which was overlooked by chapels where travelers could pray before attempting the crossing.

The town now has two newer bridges, one by-passing the town and a footbridge, 'Challenge Bridge', made famous by the television programme 'Challenge Aneka', from Egloshayle to the main town. Quite a romantic spot, especially when the swans and herons - and the occasional otter - are gracing the river with their presence. The river and the estuary, teem with bird life, and there are hides placed for the publics use.

Originally, Wadebridge was a market town, but in later years became a foundry town. Today it is becoming steadily more exclusive, especially now as Cornwall raises its profile. The riverside has undergone extensive refurbishment, the new buildings complementing the existing architecture perfectly. There are also plenty of good places for you to stay when visiting, accommodation ranging from guest houses and hotels to campsites and holiday parks.

All in all, the town has more than its fair share of Cornish charm and character. It makes for a very pleasant visit, and is an excellent base to tour Cornwall from, placed as it is just off the main North Coast, east to west road, and only minutes from Bodmin and the A30.

On the road to Bodmin you will find some dog friendly gardens at Pencarrow. This is a stately home with a big conncetion to the town, still lived in by the family that once owned much of Wadebridge. They are unique and family friendly. Well worth visiting!

Wadebridge Events
There are currently no events listed for this area, if you are planning an event, please let us know and we will add it.

Wadebridge Accommodation
Accommodation in Wadebridge is, as one would expect from an established resort, excellent, whether you plan to go camping or bed and breakfast-ing. Much lies in the beautiful surrounding area and ranges from holiday parks, B&Bs and campsites to high quality hotels and self catering.

Entertainment and Eating Out Guide
The Camel Trail is probably Wadebridge's main entertainment feature as it is central placed along the trail, where you can travel on your bike either seawards to Padstow or inland towards the beautiful Bodmin Moor. Cycle hire establishments are placed conveniently, and offer a good service. The trail is very even and wonderfully scenic.

Entertainment in Wadebridge has a lot more to offer in the way of practical activities though; sailing, fishing and water skiing among others. There are also plenty of places to play golf around this lovely town. Fishing trips here are a brilliant experience, or if you have kids, there is an adventure park not far from the town centre. The cinema here is good, and a welcome change from the soul-less multiplexes.
Eating Out in Wadebridge
There are several good restaurants for you to dine in the evening, and takeaways if you would prefer a more casual approach. The restaurants cover a range of tastes, and will suit most people. There are a number of pubs here serving food, including the Swan Hotel, located in the centre of the town.

Recently the Saltbox has opened, a selection of streetfood which can be eaten under cover on the tables, beside bars and heaters in the winter!


Shopping Guide
Shops in Wadebridge are of good quality, and there is not the hectic pressures of a larger town. It consists of newer shops as well as the traditional hint of an old market town. There is a great opportunity here for you to visit many arts and crafts shops and some fantastic galleries.

The development of the riverside includes new shops and businesses, and sits alongside the pedestrianised town centre nicely. UK high street names are here, juxtaposed with lots of independent shops making shopping in Wadebridge a pleasurable experience.

Some of the boutiques here include some wonderful handmade children's clothing where everything you see can be made to your very own specifications. There is also one of the largest antique showrooms on the high street, Victoria Antiques.

Wadebridge Beach and Surf Guide
Wadebridge is surrounded by a lot of good surfing beaches, both east and west of the town. Some are brilliant for beginners, but others require a little more experience. Most are under watch by lifeguards for the majority of summer. There are also good surfing shops in Wadebridge.

Travel Information
Buses and taxis operate throughout the town and surrounding area.

Wadebridge Businesses
Once a market town, Wadebridge still has a thriving industry of many varieties of business. They range from unique services by trades people, to international firms based right here in the South West.

Working around the Camel estuary are Cornish Garden Team, gardeners in Wadebridge and a familiar sight in the towns and villages around North Cornwall. Find out more about them here.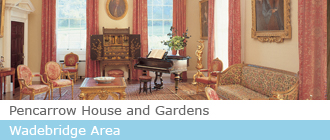 Bodmin
Camelford
Falmouth
Fowey
Isles of Scilly
Launceston
Lostwithiel
Newquay
Padstow
Penwith/Lands End
Penzance
Perranporth
St Agnes
St Austell
St Ives
Tintagel
Truro
Wadebridge