Penwith and Lands End Tourist Information
Penwith and Lands End Guide and History
The land beyond St. Ives and Penzance is all that seperates Cornwall from the Atlantic. It is like a country of its own, carved from the granite by milenia of winds and nature. The tin mining heritage of Cornwall is very evident here, with many places of note; museums, mines, and the vivid signs of the industrial age on the rugged landscape.

You cannot visit this are without heading towards Land's End itself, the most Westerly point of England. A visitor centre dominates much of the location, but it is just part of the beautiful sea views and a varied and rugged coastline of coves and beaches which are great for walking. There is a RSPB wildlife discovery centre, and not surprisingly, some awesome views.

St. Just is the most Westerly town, and features many marks of its history dating back to the Medieval times, the Iron Age Bronze age and even Stone age. This is a key area to the mining history where you can see the ruins of the old mines along the coast.

Carrying back along this route, Pendeen is on the north coast between Land's End and St.Ives and is home to a 1900 lighthouse.

Penwith Events
There are currently no events listed for this area, if you are planning an event, please let us know and we will add it.

Penwith and Lands End Accommodation
At St. Just-in-Penwith, you will find guesthouses, restaurants and pubs mainly situated in the town square. Zennor is a pretty granite village on the coast between St. Ives and St. Just. With its B&Bs and a backpackers centre, it appeals to walkers and birdwatchers.

Entertainment and Eating Out Guide
The Minack Theatre is situated in Porthcurno only 10 minutes from Land's End, with its amazing views it makes for a very special day out. The theatre is open to have a look around in the day, as well as for its time-tabled performances. Book ahead because it is very popular and bring a picnic and a cushion to sit on!


Shopping Guide
The main shopping centres lie on the Eastern edge in Penzance and St. Ives, once into Penwith, the shops consist of gift shops and arts and crafts. There is a great deal of high quality art available in this region, and St. Just and the surrounding area has quite a lot to offer.

Penwith and Lands End Webcams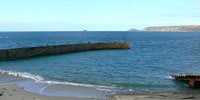 A view of the cove and Lifeboat Station.
See the camera ...

Penwith and Lands End Beach and Surf Guide
North of Lands End is Sennen Cove which is a great family beach, with its long stretch of golden sand, the waves are ideal for families and beginners at surfing.

Travel Information
Public transport in Penwith is limited, the main links with the rest of the UK are in Penzance, including railways station, helipad and port. Ferries and flights to The Isles of Scilly are available here. The rest of the region is served by a bus service.