Falmouth Tourist Information
Falmouth Guide and History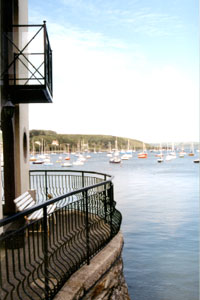 The port stands at the entrance to Carrick Roads, a natural harbour formed at the junction of several estuaries. The castles of Pendennis and St. Mawes, which face each other across the Roads, were built by Henry VIII. The protection they gave against marauders was vital to the rise of Falmouth as a port.

Pendennis Castle was the last Royalist stronghold in England to surrender to Cromwell in the Civil War. There is a very good view of the town from the castle ramparts. A brick chimney near the Custom House Quay is the King's Pipe, where for years smuggled tobacco was burned when seized by excisemen.

The first Royal Mail Packet Station in England was set up at Falmouth in 1688. Post, messages and bullion were taken across the seas to America, Africa, India and the Mediterranean, making Falmouth very prosperous. But in time the trade transferred to Southampton bringing on a decline to the town. Later though, in 1863, the railway was extended to Falmouth bringing holiday makers and ensuring the status it now enjoys as one of the main resorts in Cornwall.

I think it is probably clear that there is a great deal of interest in these historic streets, and now there is more than ever before, especially since the building of the National Maritime Museum. An extremely well designed building packed with history and things to do. Also close by are the National Trust's Glendurgan Gardens, water gardens and tropical shrubs in a picturesque valley, and Trebah Gardens, situated on the Helford River and featuring sub tropical plants.

Falmouth Events
There are currently no events listed for this area, if you are planning an event, please let us know and we will add it.

Falmouth Accommodation
There is a very good standard of accommodation in Falmouth, and most of it close to the sea. Hotels, guest houses, camping and self catering; all your needs are catered for.

Entertainment and Eating Out Guide
Entertainment in Falmouth does not disappoint when it comes to activities. A history of nautical pride is reflected well in the wide range of pursuits available on or in the water. Numerous boat cruises take place along with various ferries, as well as shark fishing, sailing and diving.

There are plenty of extremely scenic walks, an opportunity to indulge in golf, and other sports available at the leisure centre and riding stables. The arts are well represented, and there are many places that feature live music. Often you will find yourself drawn in a direction you had not intended by infectious melodies drifting through the night.
Eating Out in Falmouth
Eating out in Falmouth has always been good, but is now following the trend of the rest of Cornwall, and improving even more. The food is excellent, ranging from tasty take-away's, to restaurants radiating style and aromas.


Shopping Guide
When talking about shopping in Falmouth, it is easy to wax lyrical about the windy streets full of specialist crafts shops, chandlers and galleries. Shops in Falmouth have so much to offer, its maritime history very evident in many of the retailers' wares.

The town centre is a pleasure to walk around, favouring the pedestrian over the car. Reputable chains sit among the individual shops making Falmouth an excellent shopping location.

Falmouth Webcams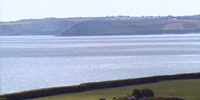 Falmouth Bay.
See the camera

Falmouth Beach and Surf Guide
While one side of Falmouth is dominated by the harbour and town, on the opposite side of the peninsula is a long golden beach. The surf is often smaller on the south coast, but Falmouth sadly suffers even more being quite sheltered. Ideal if you want to dabble for a first time, but experienced surfers are still within a short journey from many of Cornwall's top beaches.

There is a mobile surf school available called Falmouth Surf School, set up to get you to those beaches. Click on the link below to see their details.

Travel Information
Well connected and with many avenues of independent transport on hand, Falmouth is easily reachable. St. Mawes is also a short ferry trip away. There is a railway and bus station along with docks with river trips.
Bodmin
Camelford
Falmouth
Fowey
Isles of Scilly
Launceston
Lostwithiel
Newquay
Padstow
Penwith/Lands End
Penzance
Perranporth
St Agnes
St Austell
St Ives
Tintagel
Truro
Wadebridge