Tintagel Tourist Information
Tintagel Guide and History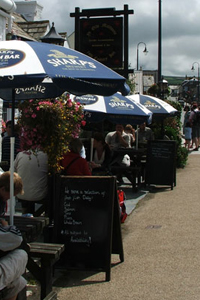 Situated on the North Atlantic coast we find the town of Tintagel, perhaps best known for its association with the legend of King Arthur.

The striking image of Tintagel Castle has provoked many imaginations. It still stands proud on Tintagel Island, which has been suggested as the place where Uther Pendragon seduced the Queen of Cornwall, or perhaps best known as the home of King Arthur and his round table. Today the legend is still very much alive in the community.

The Battle of Camlann, known as King Arthur's last battle, is re-enacted every year in August. Walk through the Vale of Avalon to the visit the castle and see Merlin's cave.

The hill above Tintagel Island has the prominent Condolden Barrow. Its impressive proportions and situation has lead to suggestions that it is the burial place of Queen Isolade though it is thought more likely to be the grave of Cador, the 6th Century King of Cornwall. Cador is mentioned as one of King Arthur's knights in a 12th Century poem 'The Dream of Rhonabwy'.

Venturing into the town you will find the Old Post Office, a 14th Century manor house, and perhaps the original crooked house. Now owned by the National Trust, it is worth a visit. Also you can find a Roman milestone from around 250AD in the Parish Church.

Throughout Tintagel there are a selection of cafes and restaurants, galleries and gift shops, plenty to keep you occupied.

Tintagel Events
There are currently no events listed for this area, if you are planning an event, please let us know and we will add it.

Tintagel Accommodation
There is a lot on offer in the way of places to stay, from guest houses to holiday camps. Bosayne Guest House has stunning views.

Entertainment and Eating Out Guide
There are a great deal of cafes, restaurants and inns in the town, also the favourite Cornish fast food is in plentiful supply... the pasty...

There are also guided tours available for the county, provided by Cornwall Discovery Tours. They also take customers to the locations from Doc Martin and Poldark.


Shopping Guide
Shopping focuses primarily on the many tourists that visit the town, but there are a lot available. There is also a deli.

Tintagel Beach and Surf Guide
Although right on the coast, there are no actual beaches here. Merlin's cave though is worth venturing down the cliffs to. As is Trebarwith Strand, which is very close, and quite spectacular.

Travel Information
Buses and taxis are available, but there are no rail links.

Tintagel Business
Not far from Tintagel is Delabole where a great deal of industry has thrived over the years. There is a huge quarry where slate has been mined for years there.