St Austell Tourist Information
St Austell Guide and History
St Austell, previously just a small cluster of houses, was utterly transformed when the chemist, William Cookworthy discovered huge reserves of china clay in the mid-eighteenth century. By the 1850s, 7,000 men, women and children were employed here in the burgeoning clay industry; drastically expanding the town.
St Austell China Clay
The town still carries the industrial scars, especially in the form of the vast clay tips, but the local council is working hard to transform them into grassy hills, which could cause them to become an attraction in their own right. Not to be missed is the clay pit that now houses the world famous Eden Project, certainly an ingenious use of what could have been an eyesore.

The Eden Project has also brought a great deal of attention to the town, and prompted redevelopment on a large scale. There are various phases of architecture throughout, with structures constructed from the 50s to the 70s, alongside captivating Victorian buildings and markets.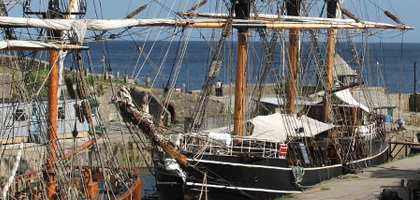 Tall Ships at Charlestown
Charlestown
Charlestown almost feels as if time has stopped, it is so well preserved. Yet, it does not come across as stayed or stilted. Although small, there is a great deal crammed into the small harbour and town.

An international film location as well, you will often see it cropping up in period pictures, more than likely masquerading as somewhere quite different.

St Austell Events
There are currently no events listed for this area, if you are planning an event, please let us know and we will add it.

St Austell Accommodation
Accommodation in St Austell and surrounding area is plentiful, especially along the coast. Carlyon Bay, a little further along from Charlestown, is full of hotels and guest houses of all standards.

Entertainment and Eating Out Guide
Eating out in St Austell is catered for by the restaurants and cafes open throughout the town, providing good food all day, and of course, brilliant Cornish pasty shops can also be found. Nearby, Charlestown and London Apprentice have good places to eat as well.
Days out in St. Austell
Entertainment in St. Austell is varied, and offers good days out for families, like the famous Eden Project and the Charlestown Shipwreck and Heritage Centre. There is a good cinema with a few screens in St Austell town centre, and an arts theatre. Nearby villages have live music, bars and take-aways. If you have a desire for more active entertainment, why not try out Pentewan Valley Cycle Hire on the way to Mevagissey?


Shopping Guide
St Austell offers an array of good shops. Like most of Cornwall it holds a few surf shops, lots of arts and crafts shops, a gallery and museum. Shopping in St Austell provides the usual clothes shops and also everyday supermarkets for stocking up, if you are in self catering accommodation.

There is quite a distinctive indoor market, housed in an old building, full of character and memory. Also, the shopping centre is pedestrianised, a large area with a wide variety of shops. Shops in St Austell are of a good standard, but there are also businesses that provide excellent services without a presence on the high street, such as Mactech who supply products from Apple. There is no official Cornish Apple Store, so businesses like these, who offer support as well, are invaluable.
Charlestown
Charlestown has limited shopping, but what is there fits the setting perfectly. Crafts shops, galleries and gift shops line the road down to the wonderful harbour, used often in period dramas.

St Austell Beach and Surf Guide
There are several good beaches nearby St Austell. First is Porthpean, a popular sandy beach that gets very busy in the late summer. When the conditions are right, Porthpean can produce some swell but most of the time it is flat and produces no surfable waves.

Second is Duporth beach, neighbouring Porthpean, it is still totally unsurfable but beautiful geographically, note though that this is a private beach. 7 miles from St Austell is Polkerris, a nice village with a small sandy beach that gets quite popular in the late summer, again, no surfing is found here.

Slightly nearer than Polkerris is the village of Charlestown, the beach is unsurfable but beautifully set next to the outstanding small harbour.

Carlyon Bay is in the process of being completely redeveloped. Accommodation, retail outlets and more are being added. The beach is well known for kitesurfing, and is great for families.

Travel Information
Buses run regularly to and from St. Austell and Charlestown, there is also a train station in St. Austell.

St Austell Businesses
The town of St Austell has centuries behind it of being a centre of trade and busienss, with China clay a principle part of that. Today it is still thriving with entrepreneurship, with a huge diversity in trades, for example, there is the niche service of Shaw Van Conversions, who provide refrigerated vans for sale, or create bespoke fittings for your existing vehicle. A definite money saving when compared to the cost of buying a purpose built refrigerated van, a good route to consider as these specialist vehicles can be exrtemely expensive.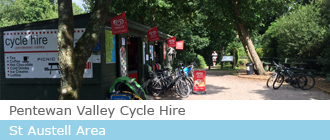 Bodmin
Camelford
Falmouth
Fowey
Isles of Scilly
Launceston
Lostwithiel
Newquay
Padstow
Penwith/Lands End
Penzance
Perranporth
St Agnes
St Austell
St Ives
Tintagel
Truro
Wadebridge